Welcome to the regional page for Devon
 This page is currently under development, please check back for future updates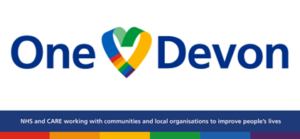 What we do:
NHS and CARE working with communities and local organisations to improve people's lives
One Devon is a collaboration of the NHS and local councils, as well as a wide range of other organisations like the voluntary sector, who are working together to improve the lives of people in Devon.
One of the lessons learned from the COVID-19 pandemic is that people need support which is joined up across local councils, the NHS and voluntary and community organisations – One Devon aims to do just that.
We want to make our system as strong and effective as possible, through partnership working and with the ambition to tackle health inequalities, help communities thrive and achieve the very best for everyone.
To find out more about our One Devon organisations, please follow the links below:
One Devon: https://onedevon.org.uk/
Royal Devon University Healthcare NHS Foundation Trust: https://royaldevon.nhs.uk/careers Delivers a wide range of emergency, specialist and general medical services through North Devon District Hospital and the Royal Devon and Exeter Hospital. Alongside the two acute hospitals, the Royal Devon provides integrated health and social care services across a variety of settings including community inpatient hospitals, outpatient clinics, and within people's own homes. They also offer primary care services, a range of specialist community services, and Sexual Assault Referral Centres (SARC).
Nightingale Hospital Exeter – https://nightingale-exeter.nhs.uk/ The NHS Nightingale Exeter was initially part of the national response to the COVID-19 pandemic, caring for nearly 250 patients with COVID-19 from across Devon, Somerset and Dorset. It has now been transformed into a state-of-the-art facility and is home to the Southwest Ambulatory Orthopaedic Centre and theatres, Centre of Excellence for Eyes, Devon Diagnostic Centre, The Royal Devon University Healthcare NHS Foundation Trust's Rheumatology department.
University Hospitals Plymouth NHS Trust: https://www.plymouthhospitals.nhs.uk/working-for-us University Hospitals Plymouth (UHP) NHS Trust is the largest teaching hospital trust in the South-West. We employ almost 13,000 staff that work in 350 different roles, plus hundreds of volunteers. UHP is responsible for providing care across the widest of spectrums: from within people's homes and working with our voluntary sector partners in local communities, to offering the most specialist hospital care available in our regional centre.
Torbay and South Devon NHS Foundation Trust: https://www.torbayandsouthdevon.nhs.uk/about-us/working-with-us/vacancies/ We provide health and social care services to our people in their own homes or in their local community. We also run Torbay Hospital (providing acute hospital services) as well as five community hospitals, stretching from Dawlish to Brixham. In 2015 we became the first NHS organistaion  in England to join-up hospital and community care with social care. We are proud pioneers in integrating health and social care nationally.
Devon Partnership Trust: https://jobs.dpt.nhs.uk/ provides a wide range of NHS services to people with mental health and learning disability needs – in Devon, the wider South West region and nationally.
Devon County Council: https://www.devon.gov.uk/ provides a range of services across the county including education, social care, highways, waste and recycling, economic regeneration, library services (via Libraries Unlimited), registration services, transport and a range of support services including finance, ICT, legal support and personnel.
Adult Social Care Services: Devon County Council works in partnership with a range of private and independent organisations that provide social care to people in Devon. These services include domiciliary care, residential and nursing care homes, supported living, and enabling services, supporting adults of any age in Devon to live independent and fulfilling lives.
Plymouth City Council: https://www.plymouth.gov.uk/ Plymouth City Council is a unitary authority serving over 260,000 residents, employing over 2,500 staff to provide services such as education, children and adults social care, street services, economic development, planning and support with homelessness. As Britain's Ocean City Plymouth is one of the largest cities on the south coast and the 15th largest city in England with an economic output of £5.63 billion, providing 111,500 jobs. It is the most significant economic centre in the South West peninsula and the largest urban area in the Heart of the South West Local Enterprise Partnership
Torbay Council: https://www.torbay.gov.uk/ Torbay Council provides a range of services including education, highways, waste and recycling, economic regeneration, library services, registration services and planning.
Livewell South West:https://www.livewellsouthwest.co.uk/ Livewell Southwest is a recognised provider of integrated health and social care services operating across South Hams, West Devon and Plymouth, with additional responsibilities for delivering specialist services to people living in certain parts of Cornwall and Devon. Integrating health and social care means that we can deliver care for people in new ways which are more efficient, with professionals who would have previously worked in individual teams now working together. This way of working helps us to deliver the right care to people, in the right place, at the right time.